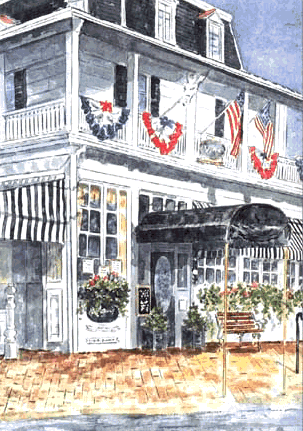 Watercolor by Patricia Rainey
Click "Reservations" tab on top right of page
Note: all online reservations will be for indoor dining rooms seating unless "Enclosed Patio" or "Lounge" is specified. [The "Enclosed Patio" is outside the building. It is protected by a canopy and plexiglass windows and is climate controlled. It has a more casual atmosphere than the indoor dining rooms but the same menu is served.] All dining areas are non-smoking. For questions, large party seating or unusual requests, please contact us directly at 609.884-8363. Thank you for dining at our unique Cape May NJ restaurant.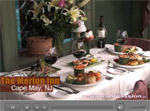 Watch Our Videos

Dinner, Cocktails and
Live Piano Music
closed for the season-see you in the Spring!
MAKE DINNER RESERVATIONS ONLINE BY CLICKING ON "Reservations" , top right or left

NOTE: RESERVATIONS FOR PARTIES LARGER THAN 6 MUST BE MADE BY CALLING US AT 609.884.8363.
Watch our videos (left side of this page)
or click here for faster-loading still photos of our dining rooms.

Free on-site parking, full bar, major credit cards, kids menu
Reservations accepted
Customary attire: resort casual
"Quintessentially Cape May." - ZAGAT Guide
"Makes you feel like F. Scott and Zelda without the psychosis"
- NJ Monthly
"The best place to get a martini in Cape May" - Philadelphia Magazine
Reservations: 609.884.8363
or by clicking here
106 Decatur Street at Columbia Avenue, Cape May
(for map, click "Directions", above)
The Best Steaks & Seafood Restaurant In Cape May!
TEXT ON THE RIGHT SIDE OF PAGE
FIND & REPLACE 2 PARGRAPHS BELOW ONLY
LEAVE ALL OTHER TEXT AS-IS
The Merion Inn, one of the most enjoyable restaurants in Cape May NJ offers Dinner and Cocktails Nightly from 5pm Live Piano Music Nightly from 5:30, featuring George Mesterhazy most nights; Jazz Trio on Tuesdays from 8:30 pm
Our Cape May New Jersey restaurant offers free on-site parking, full bar, major credit cards, kids menu, reservations accepted, Cape May casual resort attire welcome