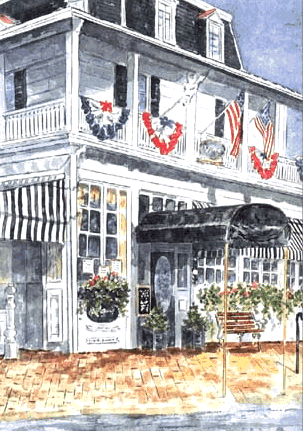 Watercolor by Patricia Rainey
Click "Reservations" tab on top right of page
Note: all online reservations will be for indoor dining rooms seating unless "Enclosed Patio" or "Lounge" is specified. [The "Enclosed Patio" is outside the building. It is protected by a canopy and plexiglass windows and is climate controlled. It has a more casual atmosphere than the indoor dining rooms but the same menu is served.] All dining areas are non-smoking. For questions, large party seating or unusual requests, please contact us directly at 609.884-8363. Thank you for dining at our unique Cape May NJ restaurant.

Watch Our Videos

Closed for the winter, reopening as soon as
we are able to keep our customers and staff safe!*
*NOTE: on March 15, even before the government
order to remain at home, we made the decision to delay our opening date to allow our employees to stay at home. At present, we are not offering takeout or delivery, although we have had requests for emergency Merion potato cups! To our wonderful customers--please be well! We look forward to seeing you soon! When we reopen, we will have additional protocols in place to protect the health of you and our employees during this challenging time.

Reservations: 609.884.8363 or online by clicking above
MAKE DINNER RESERVATIONS ONLINE CLICKING "Reservations" , top right

NOTE: RESERVATIONS FOR PARTIES LARGER THAN 6 MUST BE MADE BY CALLING US AT 609.884.8363.
Watch our videos (left side of this page)
or click here for faster-loading still photos of our dining rooms.

Free on-site parking, full bar, major credit cards, kids menu
Reservations accepted
Customary attire: resort casual
"Quintessentially Cape May." - ZAGAT Guide
"Makes you feel like F. Scott and Zelda without the psychosis"
- NJ Monthly
"The best place to get a martini in Cape May" - Philadelphia Magazine
Reservations: 609.884.8363
or by clicking here
106 Decatur Street at Columbia Avenue, Cape May
(for map, click "Directions", above)
The Best Steaks & Seafood Restaurant In Cape May!
TEXT ON THE RIGHT SIDE OF PAGE
FIND & REPLACE 2 PARGRAPHS BELOW ONLY
LEAVE ALL OTHER TEXT AS-IS
The Merion Inn, one of the most enjoyable restaurants in Cape May NJ offers Dinner and Cocktails Nightly from 5pm Live Piano Music Nightly from 5:30, featuring George Mesterhazy most nights; Jazz Trio on Tuesdays from 8:30 pm
Our Cape May New Jersey restaurant offers free on-site parking, full bar, major credit cards, kids menu, reservations accepted, Cape May casual resort attire welcome